Links
New Zealand Fellowships
Overseas Fellowships
Resources
Recommended Free Bible Study Software ...
Quote...
He, God, dwelt in Christ, and in Him was the fulness of the Godhead, bodily. God expressing Hisself through Jesus, and Jesus was the vindication of God. Can you understand it now? See, not three people; three attributes of one God; not three gods; three gods, heathen. See? Not three gods, not... Father, Son, and Holy Ghost isn't three different gods. It's one God in three manifestations.

William Branham - Calling Jesus on the Scene (1963)
The Scripture Saith...
Blessed [be] the God and Father of our Lord Jesus Christ, who hath blessed us with all spiritual blessings in heavenly [places] in Christ:

According as he hath chosen us in him before the foundation of the world, that we should be holy and without blame before him in love:

Having predestinated us unto the adoption of children by Jesus Christ to himself, according to the good pleasure of his will,


Ephesians 1:3-5
Message Resources
Message Music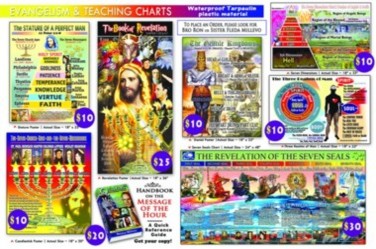 Tarp Display ; Email: ronmillevo@yahoo.com